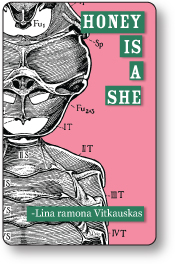 HONEY IS A SHE
A collection of poetry
by Lina ramona Vitkauskas
READ MORE »

"Vitkauskas' poems possess the intricate peculiarity of honeycombs and Schiaparelli dresses, as she exquisitely fashions poems out of scientific particulars, cinematic references ('they place the horse head in the bed'), and metaphors' associative logic. 'These girls are brave tailors in the blur of impossible femme,' and like her own subject, Vitkauskas is fearless as she navigates, interrogates, and ultimately, dislocates conventional gender dynamics: 'I rip the itch from gender.' The dynamism, humor, and marvel of her poems recall the surrealist Joyce Mansour, conveying a similar tenor as they negotiate desire and disease, ardor and animosity, with beehive fervor. Be stung and sung in the 'golden / drip science' of her resplendent poems."

—Simone Muench, author of Orange Crush (Sarabande, 2010)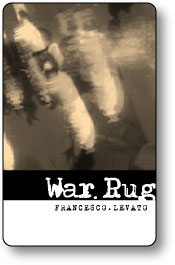 "Francesco Levato's powerful documentary, War Rug—like Eliot Weinberger's What I heard about Iraq before it—detains the language of the perpetrators of global military aggression and redeploys it to indict them. From J.C. Penny catalog copy to counterintelligence manuals and autopsy reports, War Rug is a fierce yet unfortunate reminder of the absolute horrors of our age." —Mark Nowak, author of Coal Mountain Elementary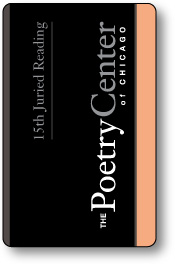 Juried Reading, Book 15:
The Poetry Center of Chicago

Each year The Poetry Center of Chicago invites regional poets to submit their unpublished work for consideration in its Annual Juried Reading, judged this year by Brenda Hillman. Finalists receive cash awards, are invited to read their work at The Poetry Center, and have their work published in a chapbook designed specifically for this event. This year The Poetry Center partnered with Plastique Press to design the competition's chapbook as an expanded Plastique eBook, which features the work of its nine finalists: Lina ramona Vitkauskas (1st place), Carrie Oeding (2nd place), Richard Fox (3rd place), Stephanie Anderson, Patrick Culliton, Ellen Elder, Rebecca Morgan Frank, Megan Levad, and Stephanie Sauer.

Click here for free download..

Plastique publishes eBooks distributed in Portable Document Format (PDF) that are viewable and printable on virtually any platform – Mac OS, Microsoft Windows, UNIX, and most mobile devices, including Android, Kindle and the Apple iPhone and iPad.

Our eBooks are distributed at readings, events, and book stores on credit card size plastic download cards that provide physicality to otherwise intangible digital media. They are also available for direct purchase and download online.