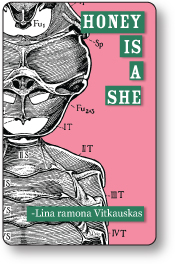 HONEY IS A SHE
Lina ramona Vitkauskas
PDF, 43 pages
Plastique Press
May 2012

Price: Standard edition (FREE)
Extended edition ($5.00)



Standard edition: A free download of the PDF version of this eBook.

Extended edition: This extended version of the eBook includes a selection of nine spoken word tracks (in MP3 format) from Vitkauskas' collection "Opaque Lunacy," as an audio prologue to the work in "HONEY IS A SHE." The extended edition will be available in early June, 2012.

"Vitkauskas' poems possess the intricate peculiarity of honeycombs and Schiaparelli dresses, as she exquisitely fashions poems out of scientific particulars, cinematic references ('they place the horse head in the bed'), and metaphors' associative logic. 'These girls are brave tailors in the blur of impossible femme,' and like her own subject, Vitkauskas is fearless as she navigates, interrogates, and ultimately, dislocates conventional gender dynamics: 'I rip the itch from gender.' The dynamism, humor, and marvel of her poems recall the surrealist Joyce Mansour, conveying a similar tenor as they negotiate desire and disease, ardor and animosity, with beehive fervor. Be stung and sung in the 'golden / drip science' of her resplendent poems."
—Simone Muench, author of Orange Crush (Sarabande, 2010)
"Splendid, grotesque, violent, but always loving, Lina ramona Vitkauskas writes like a contemporary Marina Tsvetaeva through a landscape of the uncertain and surreal; the language is made from the nervousness and energy of every bee in the hive. Part "rotten aorta" and part "snapdragon wine", the poems in HONEY IS A SHE form a buzzing network of inventive beauty."
—Sandra Simonds, author of Mother was a Tragic Girl (Cleveland State University Poetry Center, 2012)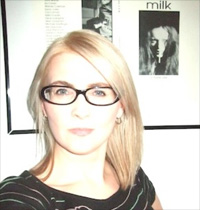 About the author: Lina ramona Vitkauskas (Lithuanian-American-Canadian) was selected by Pulitzer finalist Brenda Hillman for The Poetry Center of Chicago's Juried Reading Award in 2009. She is the author of A Neon Tryst (Shearsman Books, 2013); THE RANGE OF YOUR AMAZING NOTHING (Ravenna Press, 2010); and Failed Star Spawns Planet/Star (dancing girl press, 2006). She is co-editor of the long-running online literary magazine, milk magazine, and has been featured in Ugly Duckling Presse's Emergency Index, the anthology The City Visible: Chicago Poetry for the New Century (Cracked Slab Books), and has published/will be published in DIAGRAM, The Prague Literary Review, The Chicago Review, TriQuarterly, The Toronto Quarterly, Van Gogh's Ear (Paris), White Fungus (Taiwan, displayed at MoMA), and many others. She is a faculty member at the new Chicago School of Poetics.